I swear it feels like forever since I have posted! I have been soooo busy! Which is kinda good......cuz stuff is actually getting done around here....geeze, when will household chores start doping themselves? We can put a man on the moon but can't find a way to make a woman's life easier?????? I see where our countries priorities are!! LOL.
Remember me telling you about my new room?? It6's killin me!!! Seriously.....we finally got most of Bob's mother's things out......and talk about drama. UGH!!! Her and her b/f ar doing nothing but fighting over all of her stuff. Her room in their new trailer is even smaller than the one she had here and she has it crammed full. And now that I can actually get into that room.......I am not joking....if you have seen that show hoarders you have a real good idea of what her room looked like. I am gonna take photos of this whole process so everyone can see what a genius I am.......LOL. It is a mess! The carpet is gonna ahve to come up......she had cats and the cats didn't always use the litter box.....yuck!! So to get that smell and all the fur out the carpet has got to go. Which is fine with me cuz it is harvest gold in color.....no I am NOT joking!!! Jesse won't even walk in there cuz he says it's disgusting.......when a five year old boy who lives to get dirty calls something dirty and disgusting it's bad!!! Oh.....and I just found out that there is nothing but plain ol flooring under the carpet in the form of plywood. So now I gotta buy tile or something. Since the room isn't huge I am thinking about going with hardwood and Bob is about to have a damn fit. So me and Jacob are on our own with this project. The little bathroom needs to be redone too....yes NEEDS to be!!! Seriously.....I will take pix a bit later to prove it!!! I am amazed that a human actually lived this way! I almost gave up last night but then I decided I have waited this long to get my own space in this house, whats a few more months??
I found a desk yesterday at a thrift store that is actually an old library table and it is HUGE!!! Just 40 bucks and its big enough to set up the computer AND scrap on.....told ya its HUGE!!! We are heading out to pick it up in a bit. And if we get the carpet pulled up today we paint tomorrow :)
So that's what I have been up to and why I haven't been chatting much with ya'll.
But I did make time last night to play along with the
Dollies
and their wicked cool element challenge this week! Hit that blinkie Vanna and make yourself useful blondie!!!!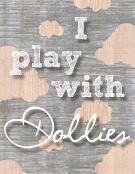 This week's element challenge is right up my alley since I DT over at Scrap it With A Song and every week we give you a song to draw inspiration from (yeah I know.....shameless plug......btw click on link to go to our latest challenge....lol) This week the Dollies challenge us to scrap one of our fave tunes. The only stipulation is you don't use a song as old as I am.....lol. They are asking us to go no frther back than the 90's. Which is good for me.....I am a child of the 80's and in all honesty I don't remember a lot about that decade anyway.......lol. So the song I chose to use is by Shinedown.......here in East Tn we have kinda adopted them as hometown boys.....I think a couple of em are actually from Asheville NC, which is just over the border.......but before they hit it big they played a lot of Knoxville bars and dives. This is one of my fave songs.......Sound Of Madness......and it made for a wild LO.......so much fun to explore my dark side now and them :)
I found the photo on Deviantart.com. They have LOTS of really cool dark art but they also have lots of downloadable brushes and actions for photoshop. And they have some really cute puppies, butterflies and kiddo photos too.......seriously.......lol. But for this song those things wouldn't work :)
Basically I just extracted the photo and blended it onto another photo of a piece of wood fence. Added the grungy edge overlay and played around with brushes to get the dirty window effect and palyed around with just about every button in photoshop to get the look of the lyrics being written by hand on the window, kinda like we write "wash me" on a dirty car with our finger.......wait, probably only I do that.......lol. But seriously.......it took FOREVER and lots of experimentation to get this one to the point I was happy with it. And for those that can't read the lyric I chose or perhaps have never heard of the song:
"I created the sound of madness
wrote a book on pain"
There are still a few days left to play long with the
Dollies
on this one so head over and check em out!! Ohhhhhhhh and don't forget...........I get to hang out with em and be a guest DT in the month of August!!! The Dollhouse will never be the same.......LOL.
That's it for now.......back to my grimy reality and cleaning that dungeon.....wanna come help me???? Please????? :)