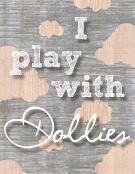 Oooooooooooohhhhhhhhhhhhhhhh it feels good to play!!!!! I miss it so!! I said earlier I was taking the day off from cleaning the spare room to take in a little scrap therapy......that room is gettin on my nerves!! We have the carpet up and now I gotta get the carpet tack thing up since I am putting down either wood or tile and I am still washing down walls and windows....yuck!
So I spent a big part of the morning gulping down coffee and blog surfing and found some sketches and challenges I wanted to play with. I missed last weeks Design Dollies sketch, which I totally loved (pout)so I have it saved for another day. I am trying to get used to white space LOs......lol. There is no hope for me gettin the trifecta at
Design Dollies
this week so I am gonna just tackle the individual challenges. So for this one I combined the
Dollies Color challenge
to use Pink, Red And Black and I grabbed
Sketchy Thursdays 7/15 sketch for the week.
I am on a kick of scrapping old photos the last couple of days. This page is titled "Mini Me" for obvious reasons. I was almost one here.....just a month shy of my first birthday actually. Apparently my mother believed in keeping me corralled.......lol. I have NEVER seen a photo of myself as a baby when I wasn't strapped into something......Hmmmmmmmm. Think maybe I was a handful? Sweet lil ol me???? It was funny......as I looked at these photos I saw my son Brandon's face when he was a baby. He looked JUST like me! That's what my journaling is about but my mother swears she can't see the resemblance. Me thinks she is in denial......lol. For whatever reason Brandon is her favorite and she spoils him rotten and pretty much just tolerates the others. Tell her he looks or acts like me and she is ready to fight......lol. Seriously!! She didn't like me much as a child and we have always had a very rocky relationship. The dynamics were there from the time I can remember. Odd huh? Usually that kinda head butting doesn't happen between moms and daughters until they hit their teens. But with us it has always been there......still is but I am trying to be mature about it all.......her loss not mine!
Anyway......here is another one of Mini me!!
I used my BRAND NEW Cosmo Cricket's Honey Pie for this one. I just got it in the mail this week and this is the first time I have played with it. I bought online at MissPaperJane.com and caught TONS of Cosmos Cricket goodies on sale. I bought this one, Cosgmo, Jolly By Golly, And something else......can't remember right now...but they were the full sized kits for $4.99 EACH!!! Kid you not!!! I was gonna go back and order more yesterday and everything is back to $14 something...........but check that site and check it often.....I ordered and had my stuff in less than a week!! And got tons of freebie chipboard pieces and scraps of paper to boot. Perfect for cards!!
Ok.....I am getting off track here :)
Everything is done with Honey Pie
The title is done with my new chipboard thickers I got in Pigeon Forge
and that stunning flutterbye is Prima that I won last month in a blog hop :)
So I have my pink, and red in the papers and my black in the thickers.
Tada!!!!
Off to create more scrappy pages!!!