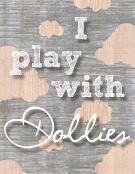 I am LOVIN hangin in the
Dollhouse
this month! They have indoor plumbing and everything!!! :) Always a plus!!!
I'm here to bring you the
Tuesday Element challenge
.......drumroll please!!!! And let me tell you.....this one was so much fun!!! And if you are keeping track, this is the second part of the sacred "trifecta" that we all just go nuts over when we hit it!
It's
TV TUESDAY in the Dollhouse
!! (pretend you heard some really cool echoy, reverb effects as I said that!!)
This week we challenge you to think of your fave tv show and use the theme as your project inspiration! Don't let it scare ya...this one was a piece of cake!!! My kids love to watch Malcolm In The Middle on Nick......and it is one of the few shows I watch with them and find laugh out loud funny. And having 5 boys I can really relate to the show. My other fave show is "My Name Is Earl" and I could definately pull off a "karma is a bitch" kinda layout but that isn't the theme song now is it? LOL
So I used "Your Not The Boss Of Me Now" from Malcolm In The Middle.......and based my LO on it.....
Check out the tude!!!!! This is the "You want me to WHAT????" look.....ya'll have seen looks like this in your own homes I'm sure :) This is Brandon when he was about Jesse's age......seems like forever ago he was this small...sighhhh. He's gotten much sweeter too......lol. The photo is perfect for the song and I had a blast putting it together! By the way.......does anyone besides me and Leah know who sings this song???? It's pop quiz time!!!
I have bits and pieces of several different digi kits here (yup it's digi!!) I know I am bound to miss someone but I am gonna do the best I can anyways...
* Birthday Monsters: Lauren Grier for Sweet Shoppe Designs
* Psycho Magnet: Studio Flergs
* World Of Wonder Alphas: Weeds & Wildflowers
I think thats all :)
So, what's your fave tv show? Use the theme as inspo to create a little something...or wait until Thursday and go crazy and go for the trifecta babyyyy!!!! Thanks for lookin and head on over to the
Dollhouse
and say hey and play along!!!
And stay tuned.......I have yet another page based on a Dollie challenge to share with ya in a bit!!
Oh...almost forgot!! Ya give up on the quiz? Who sang the theme song to malcolm in the middle? They Might Be Giants!!!! Seriously.....thats who sang it, not a descriptive term.......lol