TA!! DA!!!
I am Guest DT for the month of August at
Design Dollies
!!!!!!!
YAYYYYYY!!! Yup....the WHOLE month!!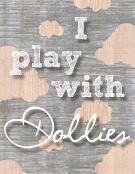 I can only wonder if the Dollies realize what they have let themselves in for :)
And because the rest of the Dollies have their own little doll that kinda represents the individual personalites I decided I needed a doll too.....are you ready?
LOL....I just couldn't resist!!!! That's me when I am PMSing....ask my family :)
Next week I will have a theme song and everything!!!!! Betcha just can't wait huh?
Well.......to say I am happy to be aboard with the Dollies this month would be a huge understatement. Everyone knows I am a HUGE Dollie fan! The challenges are always fun and everyone is so talented and I really want to encourage you to play along if you have never checked them out before now. They are all so sweet and, well........total DOLLS!!!!
So for my very first post at Guest Dollie I present to you.........Vanna!!!! Get your rump out here girl!!! (drumroll)
A Color Challenge!!!
(the crowd oooooooooohhhhhhhhhhs)
The color combo of the week is Olive, Cream and Purple.
I personally had a difficult time with this one. I think mostly because I was suffering a little performance anxiety. Secondly I am not purple people......lol . I struggled and struggled and the perfectionist in me kicked in and nothing I created satisfied me. Finally I settled on a card......(see, if I attemapt a card you KNOW I am having issues!!)
I hate that the dimension on this doesn't show on camera.....I think I need to fire my inept photographer......lol. And I added paper with olives on it to just drive my point home.....LOL. Everything here is from Creative Imaginations :) Oh and Colorbox purple ink.
I also have a LO......yeah I know....such an over acheiever! I used the sketch at
Sassy Lil Sketches
as a jumping off point.......the sketch:
and my outcome using the Design Dollies Color Combo......
Seemed like a good idea at the time.....lol. It's missing something tho...
Ok......So I had a rocky start but head over to Design Dollies and play along!!!!!
Did I mention there is a prize??
And a yummy one at that!!!
Ohhhhhh my!!!!!!!! I feel faint just looking at it!!!
Dolce Scrapbooks
is sponsoring the color challenge this month! Visit their Ebay store and prepare to drool!!!!
If you were thinking that kit looks a lil familiar or you just can't wait to see if you win it or not......it's "Avignon" kit from 7 Gypsies, with 6 double-sided paper and a ton of gorgeous embellies!!!!
Lookin forward to seein some of my bloggie friends play along this month! That means YOU!!!!!!