Told ya.....I am on a card roll :) I needed a couple of birthday cards for friends so I thought I'd share with a couple of challenges!!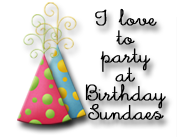 This one is for Birthday Sundaes #25.....Pretty easy peasy (otherwise I couldn't handle it with my limited card making abilities.....trust me!!!) Just create a birthday card with a birthday sentiment visible on the front of the card. I followed this sketch from Pagemaps that I found on A Cherry On Top's blog :) The mission here, should you choose to accept it, is to follow this sketch to create a birthday card and to use at least one flower!
This sketch is so stinkin cute! I am definitely saving it for future use!!!
I used a Birthday pack from Me And My Big Ideas called "Celebration". I have had this for almost a year and never once cracked it open. I think this turned out really cute tho.......now that I tore into the paper I will be using it a LOT!!
There's the flower......lol
And another flower on the backside for good measure.....lol.
Thanks so much for looking!! Click on the name of the challenge above if you want to play along!!
Tina