I never thought I would see the day........
Me........at a loss for words??????
I think I need a vacation or something!!!!
My mind is totally fried at the moment.........we had some teenage punk drama last night involving a boy that Jacob goes to school with. That one deserves a post of it's own tho......so tomorrow watch out. I will be on a rampage for sure!! So consider yourselves warned.
After a few days of being rid of all of the sickie germs, you guessed it! I have 2 sick boys trying to pollute my air space with their sick boy germs. YUCK! I'm hoping it's not strep........but I have a sinking feeling that it is. Jesse, my youngest, is still lounging in the pajamas he put on Friday night. Complaining of a sore throat, a headache, upset tummy and an ear ache. I am crossing my fingers that it is merely an ear infection. Not that I want him to be sick AT ALL! But an ear infection is much preferred to strep! My 11 year old is complaining of the same symptoms and I am still debating whether he is truly feeling bad or is just trying to cash in on the sympathy Jesse is getting. So say a prayer for us.......we just have 3 days to get thru this week and then they are out until January 9th. Seriously...........January NINTH!!!!
Xanax take me awayyyyyy!!!!!!
So.....as you can tell I was in desperate need of some "me time" today. And I took a break from the teacher gifts, class treat bags, family gifts, and cards to make something for ME!!! Just because! A totally selfish thing to do in the midst of the holidays I know.......I look really guilty don't I?? :):):):) The hard part of it is over with.......I just can't find my stupid photos.No doubt I put them away for safe keeping and totally hid them from myself. Which means I will look high and low for them for the next 2 or 3 weeks and finally concede defeat.....send my digital images off to Walgreen's to be reprinted, get them home and that very day.........yeah.......the others will turn up. Admit it......it has happened to you too!!! I can see the little smile and the nodding of your head while you are reading this :)
Anyway.......I decided to make a mini album. This is only my 2nd one ever. And I love putting them together. Layouts are great but there is just something about a mini that is kinda therapeutic. I created this for some winter photos I wanted to showcase but have them all in one spot. So grab some tea or a shot of tequila (opps did I seriously just say that?????) and get comfy because I have quite a few photos to show ......photos of the photo-less mini album......
The cover.......
The rest are inside shots.....
I tried to get a decent photo of the flakes....I added some bling to them and it is really adorable in person!
I started with a Nikki Sivils chipboard mini......all of the papers are VERY OLD GCD Studios Winter Wonderland. I am trying to figure out why I never used them until now because I really love the kinda grungy look they have to them. Hmmmm.......one of life's great mysteries I guess :) I added stickers from Echo Park's Winter Time. My very first Echo Park collection I bought.....ever. (sniff, sniff.........I'm feeling so emotional now) The big red and silver chipboard title is made with Cloud 9 Designs alphas, the silver glittery snowflake is from Precocious Paper's Dec kit, and placed strategically over the edge of the "W" to hide the fact the the "W" is actually a "M".......Bob would not shut up about that so I covered it up.......yeah none of us EVER interchange M's W's E's or 3's do we?????
I created the little journaling spots using Basic Grey's basic white......the sheet that looks like lined paper....because I can't write straight without lines.....seriously...the scrap police would ask me to do a breathalyzer! Used more EP stickers........some from Everybody Loves Christmas....then used the negative image left behind on the sticker sheet to trace the snowman silhouette , I may embellish it, but for now I like the clean look of it.
And that's it!! I love my little album!!!
I know......I can talk forever huh??? lol
I didn't create this specifically for any one challenge but I found a few to enter it in anyway.......I rock like that ya know......lol. So I am sharing at the following killer challenges and linky parties :)
Alderberry Hill..
.....click the blinkie thing to go visit.....crafts, DIY's and recipes.....see what your friends in blog land are creating!
Dittle Dattle Amaze Me Monday (click button below to visit!!)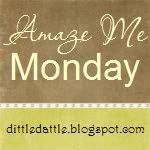 Alphabet Challenge Blog
W......White Christmas
City Crafter Challenge Blog
Get booked!!! Make or alter a book
Do You Stack Up
Winter
I heart naptime
Sundae Scoop
One stitch at a time
Anything goes
Make It Monday Linky Party
Show em what you have been creating!!
The Pink Elephant
Snowflakes and sparkle
Pile it on
bling it up
CraftoManiac
Manic Monday Link Up
Singing Three Little Birds
Inspire Me Monday
Ande before I go I want to thank the wonderful girls over a
t Lasting Memories
for featuring my "Snow Day" layout Friday!!!! Lookie what they gave me :)
Ain't they just the sweetest!!!!!! BTW......you need to check out the challenge this week! It's a goodun!!! ANDDDDDDDDDDDDD they are having a DT call!!!! Visit the blog for the deets!!
Til tomorrow........
Hasta La Vista baby!!!
Tina