Helloooooo and happy Wednesday!
Is it fall yet? It is certainly on it's way! I didn't even have the A/C on here until late this evening, but that was only because I had the oven on. SUPER beautiful day today!! And did I get anything done? NOPE!! My intentions were good tho!! I haven't been online much the past couple of days......well, at least not on the computer. Bob gave me a new Android phone!!! So I have been playing around with that......and I downloaded Instagram because I hear everyone talking about it. So if anyone has any Instagram tips for dummies feel free to pass them along...... particularly photo editing apps! So far every single one I have wanted is for iphone only. Grrrrrrrr!!! I also downloaded Pinterest so I can have something to do with my waiting time in the afternoon when I am picking the kids up......lol I am loving that this camera is comparable in quality to my Canon...........granted I don't have a $600 Canon but it works for me! But now my phone pics will look nicer and I won't need to carry the phone AND my camera everywhere I go.......sadly enough, that's how I am. You never know when a great photo op will present its self!
Even tho I haven't posted much I have been busy! I have gotten many projects done that you will be seeing in the coming weeks! Tonight I am sharing one for a brand spankin new blog my friends and LMLC DT members Karen and Denise have created. I tell ya....I don;t know how those two do it!!!Busy! Busy! Busy! You really should check it out! It's called
Digitally Sweet
.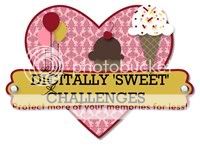 And as the title suggested, it's all about digital!! FUN!!!! Don't be afraid to give it a try! It's just amazing what you can do with your computer, Don;t get me wrong...I LOVEEEEEEEEEEEEEEEEE working with paper and getting all messy. But I like the freedome I get with digital as well. I am always worried I am gonna spend a fortune on products for a project and them mess it up. It's ok to mess up with digital....just stat over and you haven't wasted anything except time....lol. Don;t be intimidated!!! There is free software out there to help you get started!
The following page I am about to share is yet another of Jesse......BTW thank you to everyone who wished him a Happy Birthday! I still can't believe my little boy is 8!!! This photo is from when he was just 2 and the cuteness here is overwhelming.......one look at this face and it's easy to see why he has me wrapped around his finger :)
The title is "Mommy, I love you five teen" And the story behind it is when he was 2 and learning his numbers, he started to number everything. Soon if he wass eating something and it got over a 5 it was a keeper.......if he hated it he would yell ZERO and give it a thumbs down. Soon he was learning that higher numbers are worth more, And one day he snuggled up with me on the couch and looked at me with those big brown eyes and said :Mommy.........I love you five teen. Meaning fifteen :) I cried like a girl! LOL So sweet this child is! And still is today! I found the quote and thought it fit the story perfectly but I have no idea who to credit for it.......
Sometimes
someone says something
really small,
and it just fits
into that empty
space in your heart.
I created my page in PSPX2
the kit is a sweet and fun one from Kitty Designs called Mushroom Tales
And I can't remember the font.....eeek!!!

I hope you will check out the blog and maybe have a go at the design team....tell everyone you know about them!! The Dt call is going from now until August 31......so you do have time to get something create3d and submitted!!! I know I will be playing along!!!

Good luck and have fun with it!!!

Tina