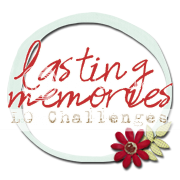 Happy Sunday !!! I wanna know who stole my weekend!!!! I swear that it seems that the weekends go way too fast around here! It might have something to do with the fact that i am STILL playing nurse to a sick little boy :( It's back to the Dr for us tomorrow because now not only is he sick, he seems to be allergic to his antibiotic and is covered in hives.....sighhhhhh! So if I missed commenting on your entries this past week I sincerely apologize.
The entries from last week that i did see , were fabulous!!! I could tell that those of you who played along had a great time with the challenge! You can drop in over at out
main blog
and check out the top three from last week and see our awesome GDT for the month
Toni!!!
Her project is DYNOMITE!!! Be sure to leave her some love!!!
I had an absolute blast this week with lout challenge theme......It's In The Movies!!!!! Some of the DT were truly challenged but I cranked this one out in no time. Probably because I am just not quite right anyway.....lol. Make this one easy on yourself and don't over think it!!! You can draw inspiration from your fave movie, use a quote, a movie poster, or scrap your fave star..... seriously.....easy peasy!!!!! Kids movies would be super cute to use too!!
`I am a HUGE horror fan. I read a lot too and I love almost every movie ever made from a Stephen King book......and I will tell you right now my first stroke of inspiration came from the Shining........who can forget the scene where Jack Nicholson breaks thru the door with that maniacal look on his face and says' "Hereeeeeeeeeee's Johnny!!!" One of the bestest movie quotes EVER!!!!!!! My ADD had me all over the place with this one......I think I could probably make a case for just about any horror movie.....but right behind The Shining my faves are ALL of the Rob Zombie movies....especially House of 1000 corpses and The Devils Rejects. Also lots of cool quotes in this one but most I can use here.......lol. And if put on the spot I think I could recite the movie line for line.
i kickstarted this layout by using this sketch from
Artful Delight
. I LOVE IT!!! My finished project doesn't look much like this sketch....and the sketch is so awesome I'm gonna save it and use it again in the very near future!! And Psssssssst!!! LeeAnne is having a DT call right now!! She is such a super sweet person that I know if you choose to try out and make it you will have a blast on her team! (BTW....the info for the call is on the same page as the sketch)
There is a LOTTA layering goin on here......didn't I just totally sound like my boyfriend Matthew McConaughey????
There's a lotta lawbreakers up in in this house! (sighhhhhh) ohhhh yeahhhhhhh I'd break a law or two with him :):):)
AHEM......anyway!!!
I had a lot of fun putting this layout together! I've been hoarding this Bo Bunny Whooligans paper forever! I really love the turquoise and black print paper in the background and it could totally be used as a non Halloween paper. It's beautiful!! I also used lot of different bits and pieces and pieces and bits to finish it off......I have a couple of bits of Bella Blvd, I can't remember the name of last years Halloween line......also some MLS.....Jillibean soup and Echo Park.......
I love to mix alphas to add interest and I used 5 different types here!! I try to do this a lot with titles.....it makes it so cool and you get rid of a little bit of your stash so you can buy MORE alphas!!!! The sparkly ones are GCD studios, and thickers, all the rest are Echo Park.
I added some buttons from my stash s well at twine that I glued around the spider web. I used the orange that was a gift from my friend Kimberly because I wanted to add a little punch of the orange color to pop things a bit and not make the layout so dark. Same with the orange paper ribbon around the smaller photo.
My son asked me if I was joining a challenge to see how much stuff I could cram on one layout......lol. Nope!! I can cram more trust me!!!! :):) You know us southern girls do everything over the top!!!!
I hope you will take time to play along with this one this week......we have slightly changed up the ending time for adding your entries to the link up to 6 pm rather than whatever it was before.......lol. My mind is scattered that time just runs together for me. But the earlier finish time give our team just a little longer to comment on your creations and pick a top 3.....and that process is getting harder and harder every week cuz you guys are so amazing!!!!!! And don't forget, if you are interested in being a GDT with us just add GDT beside your name when you link up. We haven't ran Toni off yet so we must be pretty cool girls to work with :)
This week I am playing along with these challenges I ahve found along my blog hopping excursions......feel free to join me and support your favorite blogs!!!! ANDDDDDDD if you decide to go digi and use more than one photo you can even enter it over at Digitally Sweet!!!!......Just a thought :)
1.
Delightful Inspiration
: Sketch
2
. Allsorts challenge blog:
layers
3.
CRAFT challenge
inspiration photo, it looks spooky so i went with that and did a halloween themeed project
Come And get it Challenges
Tic tac Toe......I used twine, free spot and buttons
Crafts and me
: Add a flower
6.
Scrap FIT workout#75:
Trendy twine....my spider web
7.
Pile It On
Patterned paper
8.
The Squirrel and the fox
Anything Goes!