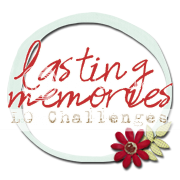 Good Monday morning and welcome to another great challenge week here at
Lasting Memories!!!
You guys rocked last weeks challenge and I have no doubt that you will this week too because fall is in the air!!!
I'm not sure about where you live (y'all can feel free to give me weather reports, I may decide I like your weather better and come for a visit!!) but fall has definitely fell here in East TN! And fall in the south usually revolves around football.....lol. I am NOT a football girl but this year I have been sucked right into the hype of college football....GO VOLS!!! And this year is my son's HS's best season in forever!!!! He doesn't play, but Jacob and Steven are both in NJROTC and both are color guard guys, which has a cool bonus of getting free game admission......WOOOT!!
But I'm getting ahead of myself since my layout has nothing to do with football.......I do that sometimes !!!
What's fall mean to you? The changing of the leaves? (The boys and I are taking a trip to the Great Smokey Mtns SOON to take in the changing colors!!) Fall holidays perhaps? Thanksgiving and gratitude? Or maybe just the cooler temps and the changing colors. We want you to use whatever inspires you about the season to create your project for this weeks challenge. And don't forget.....this month we are looking for Nov GDTs!!! So if you wanna join our crazy group of girls just at GDT to your name when you go to link up!!!
For my layout I chose to scrap a couple of pics of my son Jacob and one of his best friends Justin......I have had this layout done for a few days but the weather wasn't cooperating with me and I finally got it photographed as best I could......so forgive the crappy cropping. And while you are at it try saying "Crappy Cropping" five times fast....just cuz....lol
These photos were take a couple of years ago at an event we go to every Halloween called the Hallelujah Hoedown. It's a church sponsored event that is more of a fall festival......the kids can dress in costumes if they wish but usually they just get in the way because there are inflatables to play on, games to play, lots n lots of free food!! If you have never eaten church social kinda food you have not lived!!! There is also face painting, hayrides, a chili cook off , and door prizes. I'm tellin ya, it is great fun and Jesse doesn;t even mind that we go there rather than trick or treating!! And you can turn you kids loose and let em run wild......lol. Seriously, its a huge field and you can see them from every spot.....so they can run and play and Mom (me) can sit and socialize!!! With GROWNUPS!!!!! The older kids.....usually either help out or get a game of football together. Awesome family fun!
My layout.....
Don't they look sweet together? Kinda reminds me of the American Gothic painting......lol.
It's a fall event and i tried to go with fall colors.......the cardstock and paper are from DCWV, the patterned paper came from the Heartfelt Stack I believe. Random office tag and ribbon, alphas are chipboard thickers and October Afternoon from Peppermint added some fall colored Prima flowers and a K & CO pumpkin diecut. The title is something I always tell my kids, be thankful for those where are truly your friends!!
And as we were driving to school this morning Jacob told me that he saw on FB that Justin's Mom had filed a missing person's report on Justin over the weekend!!! How scary!!! Justin was found safe and sound and I'm not quite sure as to what actually happened.....he's a teenager and he is a tad moodier than most. He has battled health issues and mental health issues no one THIS young should ever have to take on......so hopefully he will be at school today and all will be well and it is just a case of teenage-itis and he walked off for a breather.........I love this boy like he is one of my own and my heart is breaking right now for him and his family. Prayers are appreciated.......and it serves as a reminder that no matter how touch we think we are, we all need friends and need to be thankful for the ones we have!
I do hope you will play along with us this week and show us your Autumn Splendor!!
Hugs!
Tina
Also linking up with the following challenge/challenges this week
Allsorts Challenge Blog
Scrapbook Page
Creative Inspirations
BINGO I went diagonal with flowers, blue and ribbon (blue in my patterned paper)
Playdate Cafe: wine, pumpkin and moss
Kaboodles Doodles
Colors of Autumn
The Crafty Blogger
Anything goes