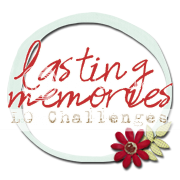 Happy Tuesday and welcome to another awesome challenge week at
Lasting Memories!
!! My post is a little late......seems I'd be late for my own funeral these days!! But better late than never right? I figured I'd better get this posted now while I still can.....Bob is off for the next 2 days.......when he's home he is worse than the kids. Always wanting attention....sheeeesh :) And the kids have a really short week this week. Their fall break consists of 2 whole days off.......lol. But they are just tickled cuz it means a 4 day weekend for them! We are going to try some cooking experiments........I hve some pinned ideas I wanna try out BEFORE the holidays. There's nothing worse than test driving a recipe when you have a big gathering. I have never had one go horribly wrong but I live in fear of that happening. Having everyone end up having their tummies pumped in the ER would not do a lot for my self esteem....lol. It's just better to work things out BEFORE the big event ya know :)
this weeks challenge is really fun....you guys seemed a little shy abouut the hometown challenge so maybe this one will entice you a bit. Did you think the entire LMLC DT was gonna show up at your house or something???. Most of us are fairly well behaved, honest :) I wo'nt tell you which ones,....that would ruin the surprise........lol.
This weeks challenge is one I like to call "Hey Rocky.... watch me pull a rabbit out of my hat"!! A show of hands if you remember Rocky and Bullwinkle!!! LOVED THEM!!! We aren't pulling rabbits out of hats this week but it is an Out Of The Hat Challenge....but hey, if you have rabbits in your hat that's totally your business,,,,,,,mine tend to hide under the bed,.,,,,,,aka dust bunnies :)
Pick 4 of the following elements from the magic hat!!
1. Flourishes
2. Brads
3. Die Cuts
4. Food
5. Pumpkins
6. Ribbon
7. Words/phrases
8. Colors (red, orange, yellow or green)
And for my layout I chose to add another one to my cousins Christmas present.....a huge scrap album of pages of her baby girl and her family.....I'm nice like that :) And this one is the whole crew!!! Her hubbs Rob, and her daughters Beth and Nevaeh and of course Tonya :) We haven't seen each other since we were both kids........and we are definitely planning a reunion sometime after the holidays....we found each other on facebook and I am so thankful!! Her and Rob are even talking about moving down this way in a year or so because they have visited the mtns several times and just love it here!! It would really be cool to have family living nearby. At least this part of the family........lol. And you know I wanna spoil that baby girl!!!
Here is her beautiful family :)
And look....I got FOUR photos on a page!!!! A record!!!! I went with Flourishes....
Ribbon and food......there is an apple in the word "love"
All of my papers are from DCWV and I have a card to share late that I created with scraps. My letters are Thickers and crate paper and some other dimensional ones thqt came in a packet of U"s......this is really the only way I know to use those.....lol.. And the doilies are just some I picked up at Dollar tree :)
So........who wants to dig deep into the hat and pull out a few surprises this week?? You just have to use four!!!! Easy stuff!!!
I'm also sharing this with the Scrap Friendzy crew........we are STILL celebrating our 5th birthday with lots of fun challenges!!
So Very Thankful 4 U.......hope that works.....lol. There are tons of birthday bash challenges going on and you have ALL MONTH to complete any of them!!! It's worth checkin out!!!!
I'm also linking up with the following,,,,,,,,thanks so much for visiting my blog today!!
Southern Girls Challenge
Tie a ribbon on it
Hugs!
Tina