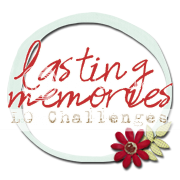 Good morning everyone ! Happy Sunday and welcome to another awesome challenge with
Lasting Memories!
And look at me! My post is on time for once!!! (Well, the right day anyway! I had typed this up earlier and then put it on hold) Thanks to my youngest kiddo, Jesse, who woke me at 4am to tell me he had barfed.......this is the 3rd kiddo stricken down by this bug in a week! The good news is it's a one day thing.......so far! So my morning has gotten off to a lovely start!!! Here's to hoping things are better when the sun rises!!
I think you are gonna dig this weeks challenge....I totally loved it! This week we are challenging you to do a "Double take" on your layout! We are looking for layouts with 2 of the same photo, 2 similar photos or 2 photos taken during the same shoot. I think that is what we finally agreed upon, some of the design team were having issues so we cut a deal and reached a compromise :)
I've had my layout finished for a couple of week and have been dying to post it on my blog! I'm horrible at keeping secrets.,,,,,,lol. It's one of my all time favorite layouts, so I am tickled to be sharing it today!! I had originally created and shared this at
Colorful Creations
, for their Twisted Blueprint challenge. Here is the sketch we had to work with.....
Perfect for our Double Take challenge and for using a lot of those studio photos we all have.......either from Kmart or Walmart or maybe even school photo packages. There are always left over photos! I chose to use photos of my now 12 year old son Brandon. He was 2 here and oh so cute!!! Long before he learned to talk back and give me attitude!! Oh how I miss those days!!!
I had lots of fun putting this together! All of the papers and stickers are from Echo Park's Splash Collection. The camera, the flair bits the office tab are from American Crafts. Twine is from my stash and teh cloud was gifted to me and is felt. It doesn't show well, but there is a ton of dimension on this page....in some spots I have foam tape stacked 3 layers thick. Super fun layout and I love the result!
So.........are you up to the challenge???? Give it your best shot and link em up by Oct 27! I'm really excited to see what you come up with!!!
I'm also entering the following challenges this week:
Color Me Scrappy
Color challenge...see photo below